ISys Embedded Middleware
Enhance your end customer's experience and regard for your product when you incorporate Lextel's ISys Embedded Middleware in your system. The ultimate benefits include favorable customer opinions and recommendations, and increased sales revenue. At the same time, incorporating Lextel's off the shelf solutions will reduce your engineering and on-going maintenance expenses. Time to market for your new projects will be reduced.
Lextel's ISys "Integrated System Infrastructure Software" provides a package of system software 'middleware' for developers of embedded and real time systems.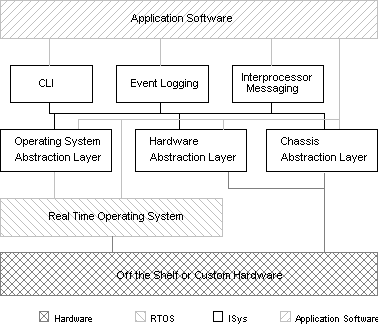 ISys includes functions commonly required in products utilizing embedded systems technologies, which are often developed in-house by the system vendor or OEM. These functions commonly run in conjunction with an off the shelf Real Time Operating System, such as vxWorks or Linux, or with an in-house developed proprietary RTOS.
Systems that benefit from ISys include optical networking equipment, local area networking devices such as switches, routers, protocol processors, network appliances, and storage area networking systems. Other systems utilizing embedded systems technology, including aerospace, military, simulation, and industrial control systems can also benefit.
Features in the current version of ISys include:
For example, the ISys Event Logging system provides a mechanism for the generation, distribution, storage, retrieval, and analysis of system event logs. Incorporating this software will allow you to pro-actively monitor the performance and operation of your product in the field, potentially averting system failures, performance degradation, and customer downtime. You can use the software to gain a better understanding of the actual use of your product, allowing you to fine tune and enhance the product to secure strong customer loyalty and acceptance. When problems do arise in the field, Lextel's logging software allows your engineers to understand the problem in detail, remotely, enabling you to solve your customer's problem rapidly. Finally, incorporating Lextel's logging software assures your end customer that you are taking a pro-active stance to system maintenance and support.
A second example is Lextel's ISys Command Line Interface Toolkit, which provides a high quality end user experience to your system. The user interface to your system is the first thing your customer sees. No matter how well engineered your system is, if the user interface is buggy, hard to understand, and generally inferior, the customer's opinion of your product suffers. Therefore it is imperative that the user interface be of the highest quality. Lextel's CLI toolkit insures that this aspect of your product will stand out from the competition, and at a lower cost than it takes to create the interface with in-house engineering resources.
Lextel can provide you with a no charge ISys Demo Software Distribution, for use in evaluating the product.
Please Contact Us to request a demo.