Real Time Connectivity Products
When High Speed, Low latency communication between computing systems is required, consider Lextel's line of real time connectivity products. Applications such as Radar, Simulation Systems, Particle Physics Experimentation, and Aerospace equipment have all benefited from the use of these products.
Lextel's Real Time Connectivity products provide 3 architectures for sharing information in real time: Shared Memory Networking, Bus to Bus Adapters, and Dma Controllers.
Shared Memory Networking
Lextel Shared Memory Network controllers create a shared global memory between a group of computing systems. With a shared memory network, all processors connected have access to the same memory region. High overhead communication protocols are not needed for the processors to share data. A producer of data simply writes it to memory, and the consumer can just look for it in memory.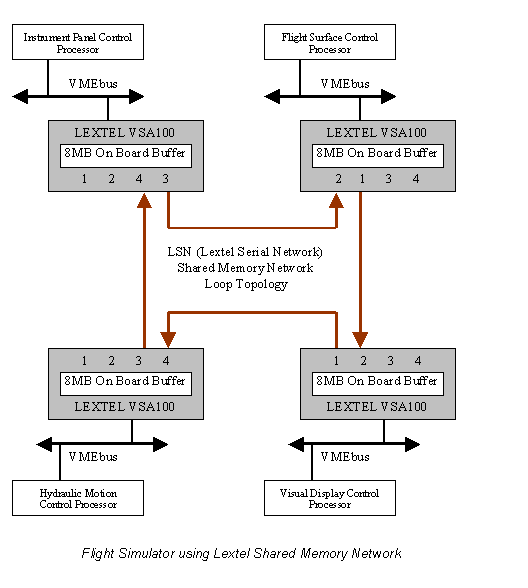 Lextel Shared Memory Network products incorporate many functions that complement the shared memory when used in a Real Time data communications application:
Generation and repeating of interrupts between systems
Broadcast and selective interrupts
Optional Bus to Bus Repeater capability on the same controller
Optional High Speed DMA capability on the same controller
Remote reset of controllers and busses
Full System controller functions
Flexible configuration options
The following Lextel Shared Memory Network products are available:
Bus to Bus Adapters
Lextel Bus to Bus Adapters enable Bus masters on a 'Local' bus to have direct random access to memory and I/O devices on a 'Remote' bus. The busses connected may be similar (i.e. VMEbus to VMEbus) or dissimilar (i.e. ISA to VMEbus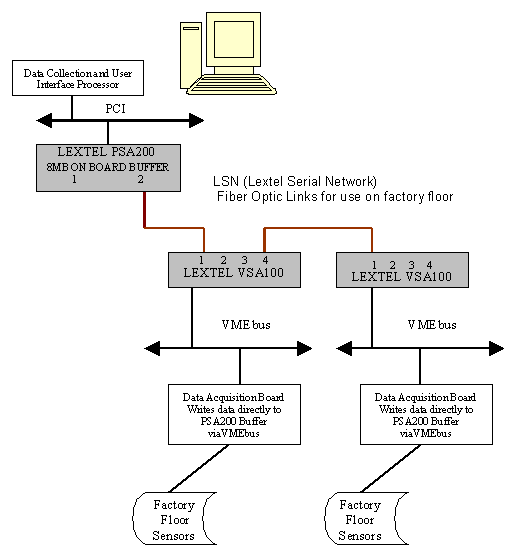 The following Lextel Bus to Bus Adapter products are are available:
DMA Controllers
Lextel Real Time Communication links can provide high speed DMA transfer capabilities. These functions are used when moving large data blocks between computing systems. Typical applications include Imaging, where transfer rates up to 80MB/sec may be required. Data transfer is accomplished by hardware mechanisms without using processor resources.
This frees processors for other computing tasks while data is being transferred. For example, this could include digital signal processing on large data sets.
The DMA transfer facilities in Lextel products include:
Queued buffer list processing
Internal Flow control
Variable buffer and packet size
Error handling
Address to multiple remote nodes
Scatter/Gather operation
Pipelined buffer processing
The following Lextel Products can include Dma transfer capabilities:
Please Contact Us for help with our hardware products